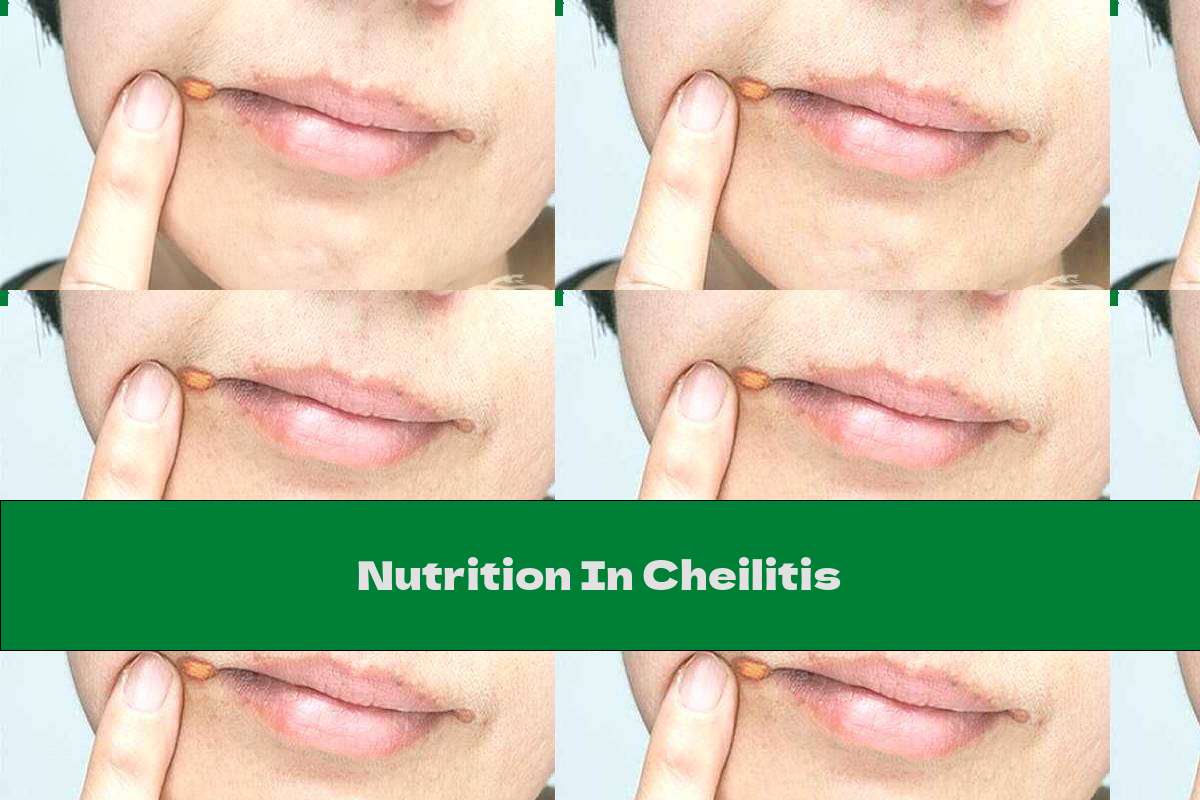 In this article, learn more about Nutrition In Cheilitis. Nutrition in cheilitis.
Cheilitis is an inflammation of the lips that affects the red border and mucous membranes. The stratum corneum of the skin of the lips is significantly thinner than other parts of the body. In addition, the lips are always exposed and exposed to various irritants and factors (cold, solar radiation, chemical elements contained in cosmetics, food, etc.). Therefore, every person at some point in his life faces a similar problem.
Physicians rarely define it as a stand-alone diagnosis, and it is not taken seriously by patients. But careless treatment of cheilitis can have serious health consequences.
Causes of inflammation can be:
allergic reaction (from dust, food, drugs);

dermatoses of different nature;

substandard cosmetics;

intense solar radiation, too high air temperature or severe cold;

acute deficiency of B vitamins;

chemical, thermal or mechanical trauma to the lips;

nervous system disorders (for example: depressive states);

infections that occur as complications after the onset of herpes;

professional activity (for example: with musicians playing wind instruments);

hyperthyroidism (thyrotoxicosis);

facial nerve neuritis;

problems in the activity of the immune system;

congenital or acquired abnormalities of the small salivary glands;

caries and periodontal disease;

genetic predisposition;

smoking.
There are several types of cheilitis, which are diagnosed according to the patient's complaints and the results of histological examination of the affected tissues. Treatment depends on the type and causes that provoked the problem. As for nutrition, it is an important part of cheilitis therapy. The menu should be balanced, it should include products that strengthen immunity and skin cell regeneration.
Useful foods for cheilitis:
low-fat yogurt products;

foods containing B vitamins: beef liver, nuts, seeds, egg whites, fish, chicken, soy milk, legumes, bananas, oats, spinach;

seaweed;

fresh and leafy vegetables;

vegetable oil;

cooked lean meat;

salmon, sardines, herring;

green tea;

seasonal fruit.
Harmful foods in cheilitis
In order for the treatment to be effective, products that irritate the inflamed skin of the lips should be excluded from the menu:
spicy, hot, salty and spicy food;

marinated and smoked products;

fast food, french fries, crackers, chips;

simple carbohydrates: butter dough products, non-homemade pastries;

allergen products: chicken eggs (yolk), citrus fruits, chocolate, red berries, honey, eggplant, tomatoes, red caviar;

home-made sauces.
This is not entire article. It continues ...