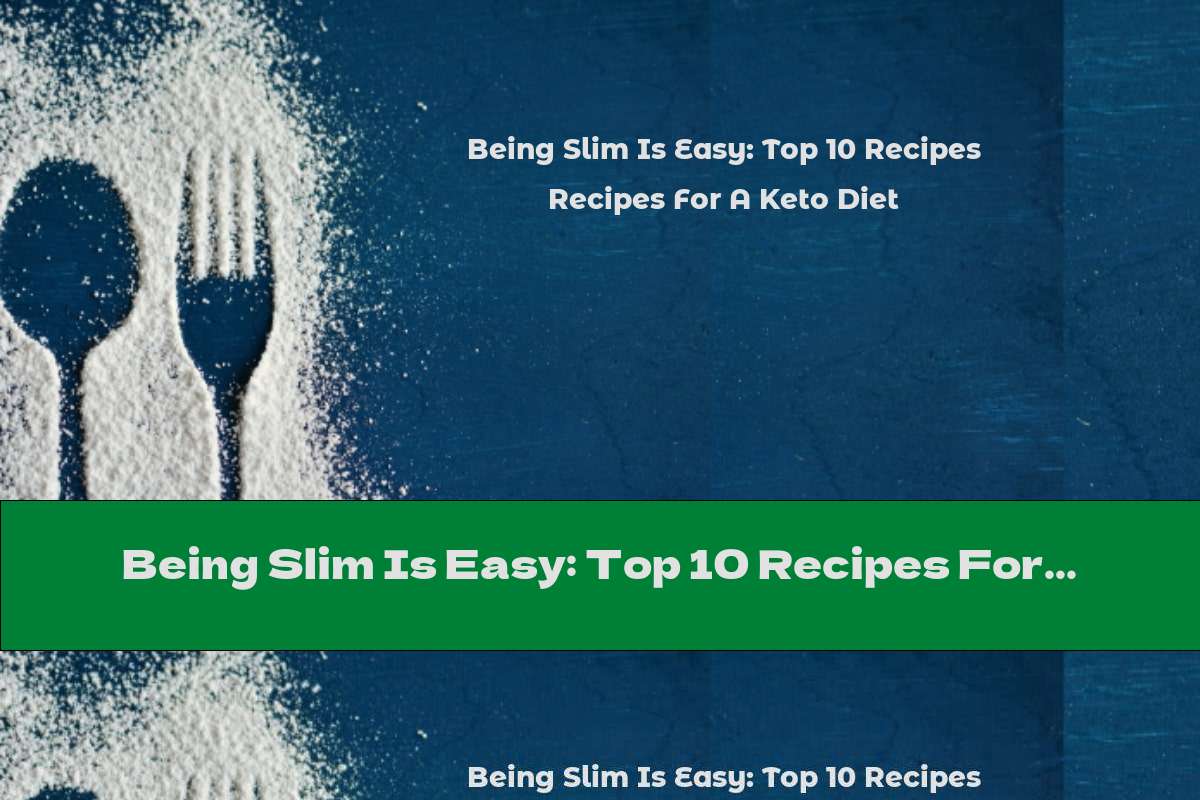 The ketogenic diet is best described as: eat fat and lose weight. During the keto diet, the body does not get energy from carbohydrates converted to glucose, but by burning fats.
The ketogenic diet is best described as: eat fat and lose weight. During the keto diet, the body does not get energy from carbohydrates converted to glucose, but by burning fats. An explosion of popularity for this diet was caused by Kim Kardashian, willingly telling how she managed to lose 30 kg gained during pregnancy with the help of a fatty diet. Another advantage of the diet is that you definitely do not have to starve. Yes, you can save muscle mass.
The diet of a keto follower in numbers looks like this: 75 percent. - fats, 20 percent. - proteins and 5 percent. - carbohydrates. The ban includes sugar, including sugar from berries, vegetables, fruits, and flour products. And you can eat such products: oil - vegetable, butter and coconut, nuts, mushrooms, eggs, meat, poultry, fish, seafood, green vegetables rich in fiber.
Here are 10 cool recipes for a ketogenic diet for every day.
Chicken thighs with crispy crust
Great dish for a party! Serve your thighs with a savory sauce, vegetables, delicious bread and a hearty hot appetizer is ready.
Ingredients:
1.5 kg chicken thighs; 2 tbsp. l. olive oil; 2 tbsp. l. salt; 2 tbsp. l. mustard powder; 2 tbsp. l. onion powder; 2 tbsp. l. provencal herbs; 1 st. l. red ground paprika; 1 st. l. ground black pepper.
Turn on the oven to heat up to 200 degrees. Pat chicken thighs dry with paper towels, then brush with olive oil in a bowl. Lay the thighs on a rimmed baking sheet. Mix all dry spices, sprinkle or rub the chicken with them.
Bake in a hot oven for 45 minutes.
Bacon fritters with scrambled eggs and cheese
Crispy bacon baskets with tender omelets and a topping of cheese are perfect for breakfast. Try them next weekend!
You will need:
6 strips of bacon; 4 eggs; 1/3 cup grated hard cheese (like cheddar) salt, black pepper to taste.
Preheat the oven to 180 degrees. Grease 6 cupcake tins with vegetable oil.
Toast the bacon strips in a dry frying pan until golden brown. Our goal is soft, golden brown, but not crispy, strips of bacon and rendered fat. Drain the bacon on paper towels to soak up any excess oil, then line the sides of the mold with a strip of bacon to form a ring.
In a bowl, beat eggs with salt and pepper with a whisk. Pour the resulting mass into molds, filling 3/4. Sprinkle grated cheese on top of each bowl.
Bake in hot oven for 20-30 minutes until golden top and firm egg. Carefully remove the baskets from the molds and serve.
Guacamole
Summer savory avocado snack goes well with chips, fried potatoes, bread. It only takes 5 minutes to prepare!
Ingredients:
2 ripe avocados; tomato; red onion; juice of one lime; 1-2 cloves of garlic; salt and freshly ground black pepper to taste.
Cut the avocado in half, turn the halves in opposite directions and squeeze the pulp into a bowl. Remove the bones and mash with a fork. Chop the peeled onion and garlic. Remove the skin from the tomato and chop. Mix everything in a bowl, season with salt, pepper and lemon juice.
Add chopped chili or Tabasco if you like. Enjoy!
Traditional Hungarian goulash
Tender melting beef in tomato sauce. We cook our favorite goulash since childhood and serve it with mashed potatoes.
Ingredients:
1.5 kg of beef; 170 g of tomato paste; 3 medium onions; clove of garlic; 2 tbsp. l. ground sweet paprika; 80 ml of vegetable oil; 3 tsp salt; half a spoonful of black ground pepper; 1.5 cups of water.
Peel the onion and cut into thin half rings. Heat vegetable oil in a heavy saucepan over medium heat. Fry the onion in oil until translucent. Then, using a slotted spoon, transfer to a plate. Do not pour out the oil.
Mix 2 tablespoons of salt, paprika and pepper in a bowl. Sprinkle the meat cut into large pieces with the resulting mixture and fry in a saucepan with oil over medium-high heat. The meat should be brown on all sides.
Add the fried onion, chopped garlic, a spoonful of salt, tomato paste to the meat in the pan, pour in the water and mix. Bring to a boil, then lower the heat to low. The meat should be stewed under a lid on a low boil for one and a half to two hours until soft. Serve with mashed potatoes.
Soup with broccoli and cheese
It only takes 5 ingredients and 20 minutes to make Broccoli and Cheese Soup. Thick, fragrant, healthy soup will appeal to both adults and children.
Ingredients:
500 g broccoli; 300 g of hard yellow cheese (cheddar); a glass of heavy cream; 4 cloves of garlic; 3-3.5 cups of vegetable broth; a spoonful of olive oil.
Heat a tablespoon of oil in a saucepan or saucepan over medium heat. Fry finely chopped garlic. stirring, until a bright aroma. Pour in the broth and cream, bring to a boil. Then add the broccoli florets to the pan. Let the soup boil, and then lower the heat to a slow one and cook for another 10 minutes until the cabbage is soft. Grate the cheese. Turn off the heat and add the cheese in batches, stirring each time until smooth. Ready!
Chicken thighs with spinach
Cheese, spinach and crispy chicken - hot for weekdays and holidays. Looks amazing!
Ingredients:
4 chicken breasts; 120 g cream cheese; a large handful of spinach; 50 g of grated parmesan; 2 tbsp. l. mayonnaise; a couple of pinches of ground paprika and onion powder; 1-2 cloves of garlic; 1 tsp salt; 1 st. l. olive oil.
Turn on the oven to heat up to 190 degrees. In a bowl, mix the paprika, onion powder and half a teaspoon of salt. Rub this mixture on the olive oil-greased chicken breasts. With a sharp knife, cut the breasts on one side to make a pocket.
For the filling, combine the chopped spinach, remaining salt, parmesan, minced garlic, cream cheese, and mayonnaise in a bowl. Stuff each breast with 1/4 of the mixture.
Arrange the stuffed pockets on a parchment-lined baking sheet and bake in the hot oven for 30 minutes.
Spinach, egg and bacon salad
This incredibly easy-to-make 3-ingredient salad is a bomb in flavor and iron content. Getting ready for the next light dinner.
You will need:
4 eggs; 4 slices of bacon; 4 handfuls of spinach; 2 tbsp. l. red wine vinegar; 1 st. l. granular mustard; clove of garlic; 3 art. l. olive oil; salt and black pepper to taste.
Hard boil the eggs. Toast the bacon slices in a dry frying pan until crispy. Then place on paper towels to absorb excess oil.
Grind the peeled garlic on a board, sprinkle with salt and crush with the blunt side of the knife into a paste. Mix garlic paste with vinegar, mustard, olive oil, pepper.
Arrange handfuls of spinach on plates. Crumble bacon on top. Top each serving with a quartered peeled egg. Pour dressing over and serve.
Spicy chicken wings
If you love savory snacks and have frozen chicken wings in your fridge, this recipe is for you!
Ingredients:
2-2.4 kg of chicken wings; 2 tbsp. l. table vinegar; 1 st. l. wheat flour; 2 cups hot sauce (your choice) 1/2 cup vegetable oil.
Turn on the oven to heat up to 200 degrees. Place chicken wings, fresh or frozen, on a baking sheet. It is better to cut the phalanges. Bake the wings for 25 minutes in a hot oven, then turn them over in the pan to the other side and bake for another 20 minutes.
While the wings are cooking, combine all the liquid ingredients except the flour in a saucepan and heat through. Then, stirring, add the flour and cook on a low boil for 5 minutes until the sauce thickens.
Select the finished wings on paper towels for 5 minutes. Then transfer to a large bowl and add the sauce. Mix and serve.
Cheesecake without baking
Make a delicious cheesecake with this simple recipe and serve it with berries. Sugarless!
For the base you will need:
2 tbsp. l. almond flour; 1.5 st. l. chopped pecans; a small piece of butter (8 g); 7 g stevia or other sweetener; a pinch of cinnamon; a pinch of salt.
For filling:
30 ml sour cream; 65 g cream cheese; 20 g stevia or honey; 40 g butter; a few drops of lemon juice; 1/2 tsp vanilla extract.
Strawberries and whipped cream for serving.
Toast the almond flour and nuts in a skillet over medium heat until golden brown. Put in a bowl and mix with stevia, salt, cinnamon. Add room temperature butter and stir until smooth. Divide the mixture between two glasses, put on the bottom and tamp. Place the base in the refrigerator while you prepare the filling.
In a bowl, beat the sour cream with a whisk or a mixer. In another bowl, beat cream cheese with butter until smooth, add vanilla extract, lemon juice and stevia. Mix the resulting mass with sour cream.
Put the filling on the base and send for several hours or overnight in the refrigerator. Garnish with whipped cream and berries before serving.
fat bombs
Very popular in the keto diet, fat bombs are a cool dessert that you can prepare in a few minutes.
Ingredients:
1/4 cup coconut oil; 1/2 cup nut butter; 1/4 cup cocoa powder; a pinch of salt; a tablespoon of honey or maple syrup
Mix all ingredients in a bowl until smooth. If the mixture seems dry to you, add a little more coconut oil. Fill the molds for sweets with the resulting mass and send for an hour in the freezer. Ready!
Send such a bomb to your mouth and enjoy an explosion of taste!
Source: cook.me